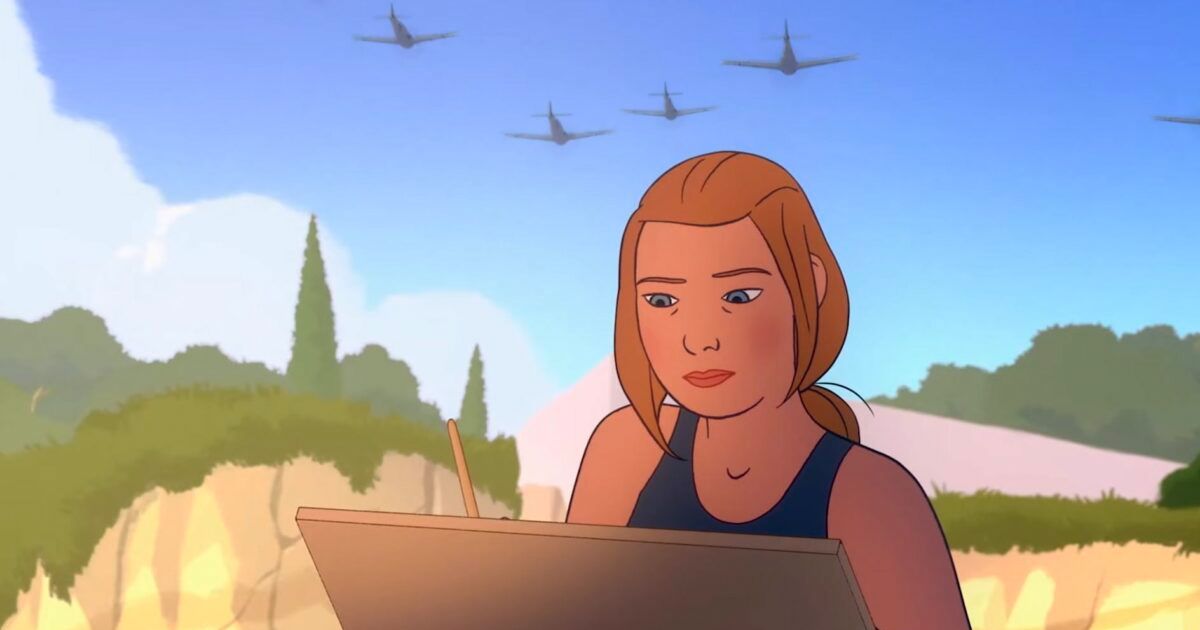 A breathtakingly animated journey into an artist's life during the Holocaust
Charlotte is a breathtaking animated film that painstakingly recounts the tragic journey of a visionary artist. "Life? or theatre?" by Charlotte Salomon consists of nearly a thousand paintings that depict her memory of a harrowing upbringing. It is the largest work of art created by a Jew during the Holocaust. Born in Germany into a wealthy family, Charlotte Salomon's artistic gift documented the rise to power of the Nazis and the uncovering of dark secrets in her line. The film sublimely uses his work as a transition between scenes. The narrative sometimes stumbles with a time-driven dependency. But overall captivates with a deep emotional connection to its subject.
We first see Charlotte Salomon (Keira Knightley) in 1943 Côte d'Azur, France. She gives kind Dr. Moridius (Henry Czerny) a suitcase of valuable paintings. The film returns to Berlin in 1933. A young Charlotte remembers the death of her mother when she was a child. A brilliant painter and draftsman, her doctor father, Albert (Eddie Marsan), and her singer stepmother, Paula (Helen McCrory), try to find her a job as an apprentice tailor. Lotte, as she is affectionately known, is gifted with her hands. Paula warns him that an artistic life is difficult. Charlotte ignores her parents. She is accepted into the Academy of Fine Arts, a major achievement for a Jewess in an increasingly racist Germany.
A few weeks later, during a trip to Italy with her grandparents, Grossmama (Brenda Blethyn) and Grosspapa (Jim Broadbent), Charlotte meets Ottile Moore (Sophie Okonedo). The American heiress is impressed by Charlotte's talent and spirit. Charlotte returns to a Berlin overtaken by Nazi ideology. The Jews became the main target of the German government. On Kristallnacht, The Night of Broken Glass in 1938, a terrified Charlotte and Paula stand helpless as Albert is kidnapped. Her father's ordeal forces drastic action. Albert decides to send Charlotte to France; where Ottile Moore shelters Jewish children and refugees. Charlotte leaves her terrifying home for a beautiful paradise. But life on the Côte d'Azur is no escape. His family's hidden tragedies and Nazi villains follow.
Related: The Duke Review: The heartwarming true story of an irrepressible dreamer
Animation punctuated by superb paintings
Charlotte's story is told with relatively simple animation punctuated by her stunning paintings. This visual contrast serves a key purpose. Charlotte's coming of age is filled with sadness. But she has moments of joy. Finding love, friendships and expression in his work. She is surrounded by a hideous prejudice that turns into deadly violence. Charlotte's teachers recognize her immense skills but degrade her as a Jew. The paintings serve as living snapshots of his encounters. Directors Tahir Rana and Éric Warin masterfully integrate them at inflection points. Charlotte is maturing in a place that hates her existence. These are strong moments that carry the weight of the film.
Charlotte ebb and flow with its bullet structure. At that time Charlotte was here doing specific things with these exact people. Tahir Rana and Éric Warin should have been more flexible in the delivery of the plot. A biopic must illustrate important events. Charlotte exposes them too directly. This Wikipedia-esque execution somewhat blunts the artistry in better parts of the film.
Charlotte includes shocking revelations newly discovered after decades. I give credit to the filmmakers for not having ignored them. Her struggles, the way she dealt with them, good and bad, are integral to understanding a complex young woman in a terrible time. The last act of the film is heartbreaking.
Marion Cotillard plays Charlotte in the French version of the film. It is also the final performance of brilliant British actress Helen McCrory. Charlotte is produced by January Films, Balthazar Productions, Walking The Dog and Telefilm Canada. It will have a limited theatrical release in the United States on April 22 by Good Deed Entertainment.