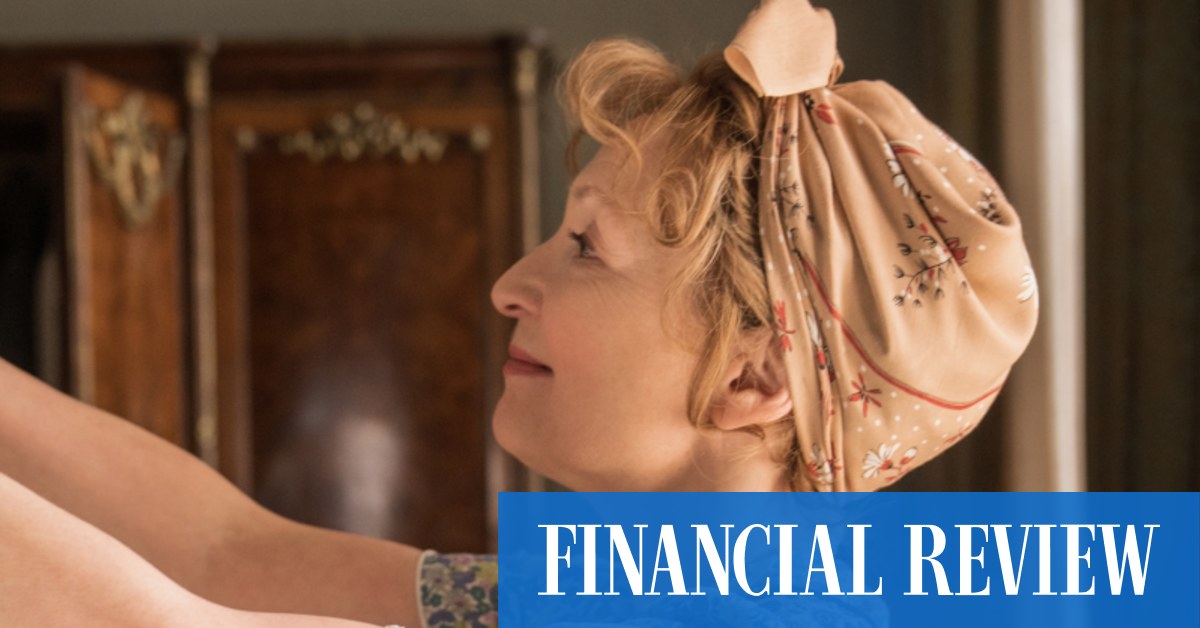 Mrs. Harris Goes to Paris (2022) Is So Sweet It'll Give You a Toothache
When she arrives in Paris, cash in hand, Ms. Harris is a smash hit with everyone from tramps stopped at a train station to staff at Maison Christian Dior. His only failure is with the manager, Madame Colbert (Isabelle Huppert – who knows how to play the snob). But we can be sure that even his tremendous arrogance is destined to crumble.
Superstar Charlady strikes up warm friendships with a kind-hearted model named Natasha (Alba Baptista), a handsome accountant, André Fauvel (Lucas Bravo), and a dashing Marquis (Lambert Wilson). It's as if the French had never met a cockney cleaning lady and were completely disarmed by this new phenomenon. The big questions are, "Will she get her dress?" And if so, "What's she going to do with it?"
I won't reveal the plot any further. Suffice to say that the whole film is so sweet that I wanted to brush my teeth when it was over. In this fable, Mrs. Harris is not only Cinderella, hoping to buy the dress that will turn her into a princess, but also the fairy godmother, determined to create a romance between Natasha and André. She even has a touch of Rosa Luxemburg, helping workers claim their rights at Maison Dior.
Paul Gallico was an American who looked at salt-of-the-earth Londoners like Mrs. Harris through the eyes of an outsider. The character is a benign composite of all the virtues of working-class England and none of the vices. The portrayal of the French is even further removed from reality, being a ruthless but affectionate caricature. If everyone in the French fashion industry were as nice as these people, there would never have been an industry at all. The only villainous specimen is a certain Madame Avallon who despises Mrs. Harris (but will no doubt pay for her class conscience).
Yes, it's all good, cleanly fun, wrapped in an intrusive musical score that constantly lets us know when it's time to be thrilled by the sheer magic of it all. The recurring theme of the dialogue is the need to cling to one's dreams. Apparently, what's special about Mrs. Harris is that she has dreams and she clings to them. This is presented as a supreme moral virtue.
Ms Harris may be a little more awake than her fictional 1958 counterpart, but she still has no bigger 'dream' than to own a £500 dress. Like so many lucky working-class types, she thinks owning expensive goods confers class and sophistication (cf. Damien Hirst, Tracey Emin…). But because Ms. Harris is so holy in every way, we have to forgive her for this materialistic fixation, and maybe forgive the entire fashion industry in the process. After all, what do fashion designers sell if not dreams?
It is hoped that the filmmakers have been generously helped by Dior, as the film is a long advertisement for the firm, presented as the epitome of French elegance. No other designer even gets a mention.
While it's hard to get too excited about Mrs. Harris and her adventures in Paris, this tale is still a big step up from the George Clooney-Julia Roberts vehicle. ticket to paradise, who, as an imperialist, saw the Balinese as exotic and childish natives. In Fabian's film, it's the French who are the naive ones and the children, who need Mrs. Harris' common sense to put them on the right track. After all, you can't go that far with Jean-Paul Sartre and Jean-Luc Godard.
Mrs. Harris goes to Paris
Realized by Antoine Fabien
Written by Carroll Cartwright, Anthony Fabian, Keith Thompson, Olivia Hetreed, based on a novel by Paul Gallico
Featuring Lesley Manville, Isabelle Huppert, Lambert Wilson, Alba Baptista, Lucas Bravo, Ellen Thomas, Jason Isaacs, Rose Williams, Anna Chancellor, Philippe Bertin
UK/Canada/France/USA/Hungary/Belgium, PG rated, 115 mins