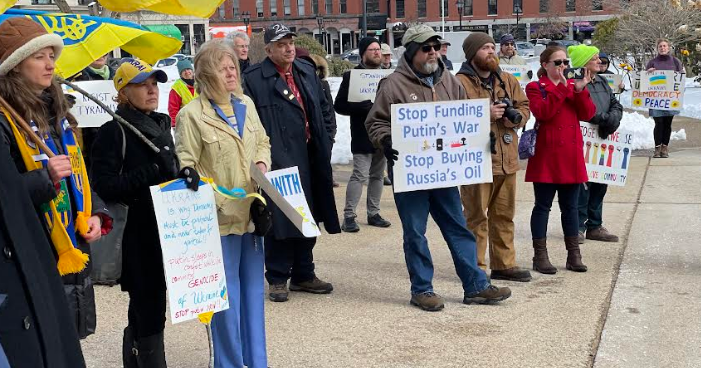 Why our hearts are with Ukraine | human interest
The war in Ukraine dominated the news in America and broke our collective hearts.
Driven by images of women and children boarding trains to escape bombardment, we imagine our mothers and sisters; in the faces of young men and women taking up arms to defend their homeland, we see our sons and daughters.
Why did the Russian invasion of neighboring Ukraine so deeply affect so many of us?
Some — including television reporters — have suggested our hearts are with Ukrainians because they "look like us" — an implication that seems to exclude African, Asian and Latin Americans.
It's more complex than that, says Tim Horgan, executive director of the New Hampshire Global Affairs Council.
Part of that has to do with our history of Cold War conflict with the former Soviet Union, he said.
And part of that may be the connection that many Americans feel with Europe.
"Europe feels closer than, say, the military junta taking control of Myanmar," he said. "More people have visited Europe than maybe some of the regions where these conflicts are happening, and so it feels more real."
Then there are the historical links to the world wars, he continued.
"We haven't seen a major country invade a European country since World War II, so I think there's a lot of fear around World War III," he said.
"You don't see a lot of countries invading each other and trying to decapitate their government," he said. "What you see most are civil wars or repressions by authoritarians."
The fact that the media has had wide access to what is happening in Ukraine also makes it more immediate, Horgan said.
"It's so unfair"
Eva Castillo, director of the Manchester-based New Hampshire Alliance for Immigrants and Refugees, said the Russian invasion of Ukraine is "such a tragedy and it's so unfair."
"I cried several times while watching television," she said.
Part of that is down to the courage and tenacity of the Ukrainian people to resist the Russian invaders, Castillo said. "These are people who are not even trained. It's like a David versus Goliath," she said.
"It's so sad to see how they face this giant who could really step on them and crush them, but they're holding their own and they've decided to stay behind and defend their nation, which is such a beautiful thing to do," Castillo says.
The Association of Arab and Middle East Journalists (AMEJA) recently condemned the way some correspondents have reported on the war in Ukraine, appearing to elevate the tragedy and its victims above those in other places, such as the Middle East or Africa.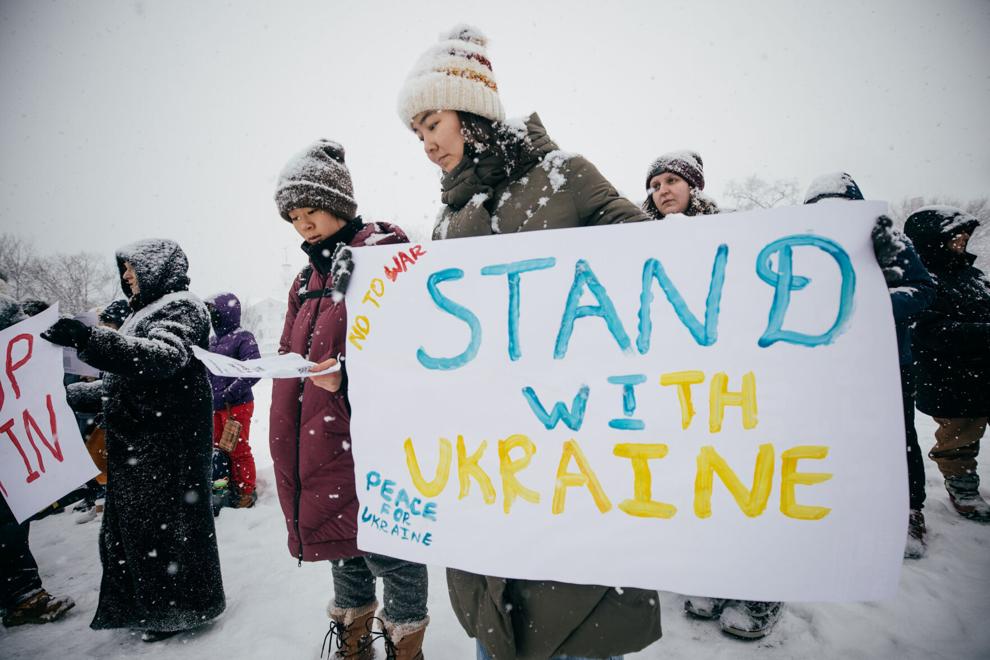 "AMEJA stands in full solidarity with all civilians under military assault in any part of the world, and we deplore the difference in media coverage of people in one country versus another," the organization said in a statement. a statement.
Yet there is an uncomfortable truth that many Americans have been affected by the crisis because they are connected to Ukrainians.
"They see themselves reflected, so it hits them hard," Castillo said. "I think it has a lot to do with it, subconsciously or consciously. I think it's mostly unconscious.
Last week, Castillo was attending an Interfaith Network meeting in Washington, DC, where it was part of the conversation.
"We were talking about how paradoxical it is that the United States has responded with such force and compassion – and rightly so – but at the same time there are so many comparable issues elsewhere that haven't really sparked the same reaction," she said.
What we have in common
The sense that the Ukrainian people are like us goes beyond race, said James McKim Jr., president of the Manchester chapter of the NAACP.
The Russian attacks shown on television took place in modern urban areas that have the same kind of amenities that we are used to in our own country, he said.
"The thought that people who are in a society like ours might face this existential threat from a neighboring country, that's compelling," he said.
Yuliya Komska, associate professor of German studies at Dartmouth College, agreed that's part of why we can't look away. "A country that did nothing was attacked by the third largest army in the world," she said.
The idea that Ukrainians are engaged in a just "fight for freedom" resonates with many Americans, she said. "Ukrainians speak very good English and made their opinions heard everywhere very quickly, so there is no doubt," she said.
There may be generational differences in how Americans view the war in Ukraine.
McKim of the NAACP said young people may not have the same sense of the history of the former Soviet Union and the Cold War with Russia, "but older people remember it. ", did he declare.
Indeed, for those who remember hiding under their school desks during Cold War exercises, Putin's "nuclear saber sound" was unsettling, said Horgan of the World Affairs Council. "That, I'm sure, for people who lived through the Cuban Missile Crisis, really brings up a lot of scary memories."
Komska has relatives in Russia and Ukraine. An American citizen, she came here from Lviv, in western Ukraine, to which many refugees have fled. Her parents, who live in Germany, have not been in contact with relatives in Russia because of the war, she said.
For many Americans, what's happening in Ukraine tapped into old fears about communism or anarchism associated with Russia and the Soviet Union long before the Cold War, Komska said.
But she said: "Part of the problem is that Americans only look at Ukraine when it is in flames.
"I find that really disturbing," she said. "If Americans paid attention to countries that need help and help and support in peace, or when people are just starting to protest for something worth changing, that would be ideal. ", she said. "Before they start to burn."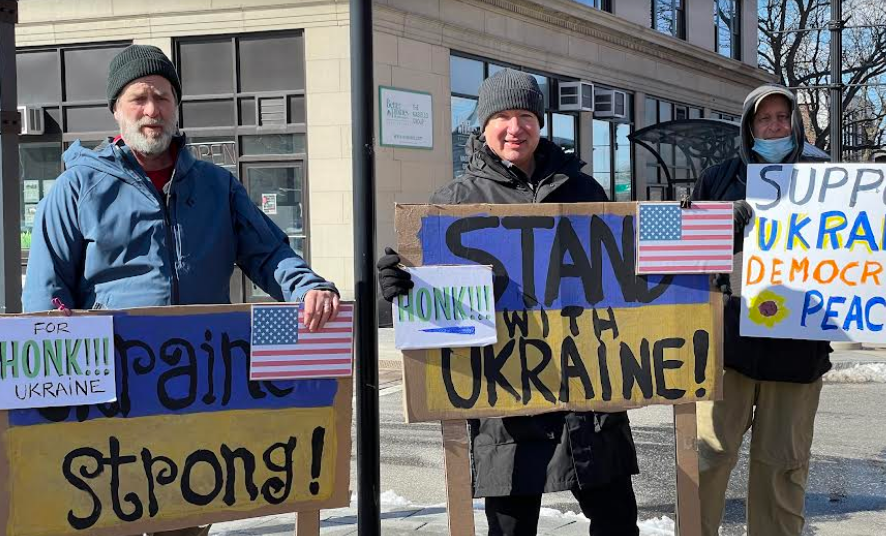 How far will Putin go
A critical question, Horgan said, is whether Putin will stop at Ukraine's borders. "He showed since 2008 with his invasion of Georgia that he was interested in expanding the territory under the control of the Russian Federation, and he said that the fall of the Soviet Union was the biggest catastrophe that the 20th century has ever known," he said. . "And so you can see how there is a real concern that it won't stop with Ukraine unless the West responds strongly."
Horgan was recently invited by the Strafford County Regional Planning Commission to speak about what the Russian sanctions will mean for the local economy. It is an indication of how a distant international conflict has spilled over to local concerns.
The price of natural gas, oil and wheat will likely rise due to war and global sanctions other nations are imposing on Russia, Horgan said. "These are globalized systems, these are globalized economies," he said.
"We are always going to be affected by the actions Russia takes because they are blowing up ports, blowing up port cities, blowing up roads, blowing up bridges. You just won't be able to physically get these products to market, and that will affect everything. »
The war has already damaged Russia, Horgan said.
"It's already a bit of this quagmire," he said. "Even if they manage to take over the whole country and install their own pro-Russian government, isn't their military might in question a bit now?
"Everyone thought it would be over in two days, and here we are on day 8 and they've taken a city," he said last week. "To me, it shows the weakness of the Russian military, of the Russian state, that they were apparently so scared of Ukraine that they felt they had to take this step."
Komska also thinks Putin miscalculated. "He entered Ukraine to protect what he calls the Russian world," she said.
However, "they don't want his help; they don't need his help. And at the same time, he is compromising and endangering the people of his own country and he is going to cause them enormous economic damage in the long and short term.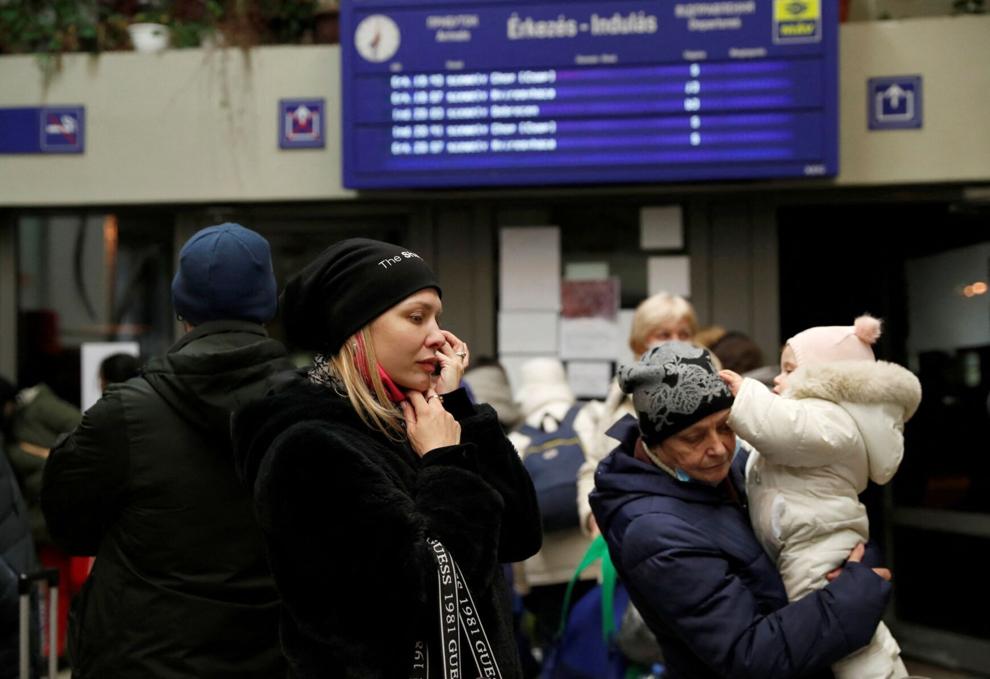 How can we help you
So what can Americans who care about Ukraine do?
For starters, it's important to follow war stories, Horgan said. After that he said, "You can then take the next step and go to the leadership of your Congress and say, 'That's the action I want the United States to take on this,' whatever that action is."
Komska said those who want to help the Ukrainian people can do so through organizations such as razonforukraine.org and the Institute of International Education (www.iie.org).
Castillo, who has worked with immigrants and refugees for many years, urged those concerned to seek out reputable charities and donate to help refugees fleeing Ukraine. "They're going to need clothes, food and shelter," she said.
But those needs will go beyond material goods, she said. "You leave your family and you also leave your social capital," she said. "You're nobody in a new place and you have to start from minus zero."
Castillo said she was encouraged by the response she saw in New Hampshire, the prayer vigils and demonstrations of support.
"It feels so good to me that in the midst of all these divisions that we have as a nation, people have found a common bond to provide support, from a distance perhaps, to these people who are going through such an ordeal. tough times," she said.
"It gives me hope to see that we can connect with another community, regardless of the differences."